Thank you for sending your compliments and photos to me,
I love hearing from you, here is some of the Fairy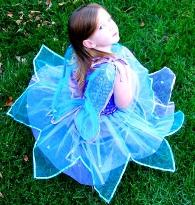 Feedback:
Yes - please send me matching accessories. The Lavender wand would be great
and as far as the hair accessories...please send the Flower Fairy head band with
crystal glitter. It sounds really pretty...and she's VERY much into glitter
I truly appreciate you letting me know the accessories I had originally picked out
did not really match
I will recommend you website to every "little fairy" that I know!!! Thanks so much again!
Donna P
Hi, I Just wanted to let you know that I received the fairy dress, head band and wand today!
It is beautiful! I can't wait to show it to my daughter! Of course, I'll have to wait until closer to Halloween or it will be worn out before the holiday even gets her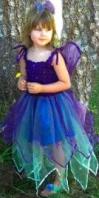 e!! Thank You so much! I am so glad that I found your website!
I wanted to send you this picture of Ally in her Soft Star fairy dress (You had mentioned you would like to see it!) The only bad part of this one...she had taken off the head band. But, it's still a great little picture!
Thanks again for making her Halloween special. All she talked about wanting for a long time was a blue and purple fairy dress! You made her dream come true! Have a happy holiday season!
Donna P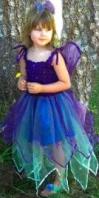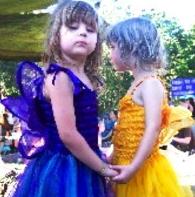 Absolutely perfect dresses for the Fairy Festival! The girls love them and everyone was showering them with compliments
Thank You, Taryn S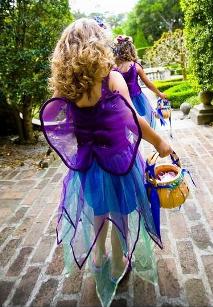 Thank You so much! The fairy Costumes were beautiful for my flower girls. They were just what I wanted for my Wedding- I loved them! The colors were so vibrant and stood out so well against the garden surroundings. Sincerely, Asia E M
Earthstar -
The wedding ceremony was excellent. Here are a few photos for you to
choose from. Let us know if you use any of them. Thanks! LIZ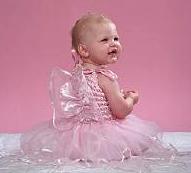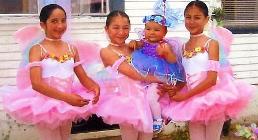 Dear Earthstar, Here is a picture of my little daughter Riley in her Baby-Toddler Soft Star Fairy Dress with the "Fairy Dancers" in the
Pink Fairy Dance Tutus, They looked beautiful and everyone loved the show. Thanks a Million, Lisa
(Photo on the right)

Hi,
Just wanted to share with you.....this is our daughter in the pink star
fairy dress
we bought from you. She was 12

months

old when the picture was taken.
Thanks for the adorable
Fairy
dress
, Jamie (Photo on the left)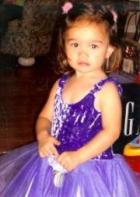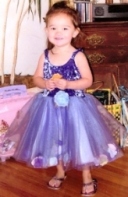 She LOVES her purple Flower Fairy Dress! After she wore it for the wedding she wants to wear it every day, Thank You, Jacquie
just want to let you know that we received the sequin fairy slippers and they are absolutely wonderful and really completes my daughter's costume. thank you very much!!! my wife and i are very pleased with the service and products and i would recommend your site and business to everyone we know. e pluribus unum, J.R. Palisoc
It arrived and it's gorgeous! I can't wait to have her try it on to make sure it fits....I'll take it with me to Phoenix and will have her try it on the first week of January. Thank you! Blessings to you, Beth
Hi Earthstar, Happy New Year! I hope your holiday went well. The fairy dress, wand, and head halo we received were absolutely beautiful! Thank you for the beautiful outfit, Happy New-Year, and I'll talk to you shortly. Amber-Rose M. TeamWorx National Sales Manager

Hi Earthstar-
Just wanted to let you know my
fairy wings
arrived today and they are beautiful! Better than the picture but so true to what I expected too! Its great to know you can expect what you see and
Flower Fairy Wings

better with an online order.
Thanks again! I'm sure I will be placing another order- as my budget allows :)
Lana

Earthstar, Love the girls "Head to toe"set of Fairy dresses they are the right color and everything.
Shipment was pretty fast too. Thank you for everything the flower girls will be perfect! Jane C
Earthstar, You made me a beautiful silk goddess caftan, that I received last week, I love it. I don't know if you can make me some kind of a long skirt to go with it. Or maybe another kaftan with a larger opening that I can use as a skirt? The sequin slippers are perfect too. The play (Midsummer Night's Dream) is on the 7th but we are having an open dress rehearsal, I think the day before, as we sold out for the night show. Thanks, Anne
Thanks very much. We received our Star Fairy dress and wand today & we are very pleased! It's beautiful. Thanks again! Colleen
Hello, First I wanted to thank you for offering these gorgeous costumes. They are stunning--just what I had in mind. The Flame Fairy dress is for a New Year's Eve Masquerade party and I just want to get a quick estimate on arrival as the date is coming up quickly. Thanks so much, All Best, R. Walton
your fairy dresses are amazing... i love them... they are by far the most beautiful adult fairy dresses i have seen..<3 Jessie
Hi...WOW WHAT A SITE. If my daughters saw this they would be FLIPPING :)! My question is about the fairy sequin slippers, are they supportive enough that if I can't get the princesses out of their gowns they can run around the park in them without being in pain or them falling apart? We are going to Disney in 2 1/2 weeks and the girls need your beautiful costumes for the princess breakfasts! Deana (Answer; Yes the fairy slippers are real shoes and have real soles and are supportive)
Hi! I have looked all over the web and these are by far the best fairy costumes I've found! My question is, how long will it take to receive my order? (I am having my daughter's pictures taken on the 3rd of Sept
I absolutely love your costumes!!! I stay amazed on how beautiful they are. My God daughter will be turning 1 in September and her birthday party theme is fairy princess, I am going to order her a fairy dress from your website and I truly fell in love w/the "Star Fairy Dress-Purple/Aqua/Blue", but I noticed that you don't offer fairy slippers in that deep purple color. Can you tell me if you are going to make the fairy slippers in deep purple any time soon? Thank You so much and I look forward to your response, Janette (Answer: The Lavender/Purple sequin slippers look perfect with the Star Fairy Dress)
We met you in Ashland in July with our two daughters. I finally placed the order for butterfly wings this AM. I ordered the 30" rainbow fairy wings, but then saw the 25" special rainbow fairy wings and they're gorgeous!! If it's not too late, please substitute the 25" for the other ones. If it is too late, no problem. Thanks very much, Judy R